What does high quality, trustworthy V1C look like? Explore the IMPACT Core Competencies framework to discover what good V1C looks like and how to get there.
Core Competency: Clinical & Operational Integration
Fits seamlessly within an individual's larger healthcare context
Exceptional V1C entities are characterized by their ability to connect the dots – operationally and clinically – for patients and partners across a patient journey and between providers and care settings. They consider patient care as a holistic journey rather than a transaction and invest intentionally in data analytics and interoperability, clinical workflows and wrap-around services, and collaborations that position them to facilitate seamless transitions of care into, between, and out of V1C care.
Choose a stakeholder to see their perspectives on Clinical and Operational Integration.
Value providers who take their past medical history and entire health status into account and trust that providers are talking to one another.
Health plans value V1C solutions that cover the breadth of services required to treat the 'whole person.' Operational and clinical integration means improved member experience across the care journey and, where needed, coordination between providers that reduces duplication of services, and reduces delays and costs due to avoidable specialist referrals and exacerbations leading to urgent care or preventable hospitalizations. Payers still want patients to have a medical home and seek complementary V1C services that don't abrade existing providers in their network.
Traditional and emerging health systems (e.g., ACOs) seek V1C partnerships that are complementary: effectively filling in gaps in care and augmenting their services without competing, whether this is faster access to specialists or 24/7 urgent care. Clinical integration powered by data interoperability, two-way sharing, and formal and informal partnerships enables health systems to retain patients while maintaining or improving safety, quality, timeliness of care, and satisfaction for both their providers and patients.
Employers are increasingly charged with keeping up with their workforce's changing needs and demands. On the one hand, employees are managing significant burdens of chronic disease, and on the other wanting to be taken care of more holistically than past generations. Although employers are leaning toward virtual care solutions, they are frustrated by low utilization, duplication of services, and patient confusion over benefits. They value providers who deliver best-in-class customer services, are adept at attracting and retaining eligible members, and are positioned to help navigate patients to covered benefits and services outside of their own practice.
Funders expect stage V1C providers to demonstrate how they logically fit into the larger health system. These ventures have a higher potential to scale beyond niche markets into the employer, health system, and insurance networks.
Maturity: Emerging
To realize the full potential of V1C this new care delivery model must be integrated, clinically and operationally into the existing healthcare system adding value to patients, providers, and payors by improving the experience and health outcomes and economic sustainability of healthcare overall. As the 'newcomer' on the scene, V1C providers risk adding to the already chaotic and fragmented patient experience if they can't meet the market where it is at. Thus, V1Cs must demonstrate that they can work well within a system of care that spans an entire patient journey.
As patients' conditions and care needs change throughout the course of their illness, their care may transition between different settings, sites of care, and practitioners. High quality V1C providers invest intentionally in workflows, data systems, and partnerships that minimize friction as patients transition into, between, and out of V1C.
Characteristics of seamless care transitions:
Important V1C Care Transitions Along the Patient Journey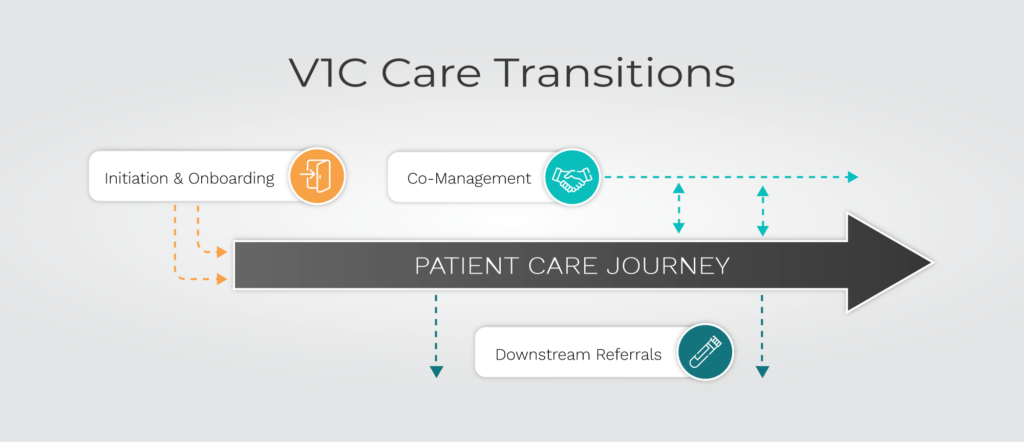 Click to learn more about the stages of V1C Care Transitions.
A Tech Stack for Effective V1C Care Transitions
Biofourmis Case Study: Coordinating Virtual Specialty Care for Polychronic Patients
Byteflies Case Study: Digital Medicine as an Enabler of Effective V1C Care Transitions
CareHive Case Study: Navigating Patients across the Continuum of Care Transitions
Conceptualizing a Data Infrastructure for the Capture, Use, and Sharing of Patient-Generated Health Data in Care Delivery and Research through 2024
Engaging Informal Care Partners for Optimal V1C Care Transitions
Engaging Key Partners for Effective V1C Care Transitions
Freespira Case Study: Virtual Care Partnership Provides Mental Health Care for Managed Medicaid Members
Guide to Effective Virtual-First Care (V1C) Care Transitions
Heartbeat Health Case Study: Leveraging In-Home Care Providers to Address the "Last Mile of Care"
Heartbeat Health Case Study: V1C Partnering with ACOs for Effective Care Transitions
IMPACT V1C Care Transitions Toolkit Resources
Necessary Conditions for Effective V1C Care Transitions
Oshi Health Case Study: Achieving Whole-Person Care
Quickstart Guide to Partnerships between V1C Providers and Accountable Care Organizations (ACOs)
Quickstart Guide to Partnerships between V1C Providers and Employers
Quickstart Guide to Partnerships between V1C Providers and Health Insurance Providers (Payors)
Thirty Madison Case Study: Seamless Downstream Referrals Advance Access to HIV Prevention
Wellinks Case Study: Integrating High-Value V1C Solutions for Disease Management