IMPACT created the Payment & Coding Toolkit to show providers, investors, payers, policymakers, and other stakeholders: "You can get paid for offering virtual first care (V1C) services!"
It's time to dispel the myth that V1C services cannot be properly reimbursed.
Use this toolkit as a quick, efficient, and reliable resource to help ensure V1C claims are processed and paid, advancing the use of V1C to provide medical care through digital interactions for everyone.
Reimbursement structures should focus on how we safely achieve desired member outcomes rather than quantifying interactions or limiting where providers deploy their expertise. High-quality healthcare can occur in modalities that do not have physical locations or fit within time-based structures.
I've seen companies in digital health struggle to get paid for their services because they must demonstrate their value to obtain a contract, yet, they need a contract to be able to truly demonstrate their outcomes in a sustainable way.
Quickstart Guide: How to Get Paid for V1C
The IMPACT Coding Library
Use this comprehensive coding library to see how new or existing care model components might qualify for reimbursement within the existing coding framework.
The library will be regularly updated to align with the changing reimbursement landscapes and will provide the tools V1C providers need to adhere to the most recent billing and coding standards.
5 ways to check your claims
The Payment & Coding checklist outlines five essential best practices that healthcare providers can implement to streamline the processing and payment of their claims.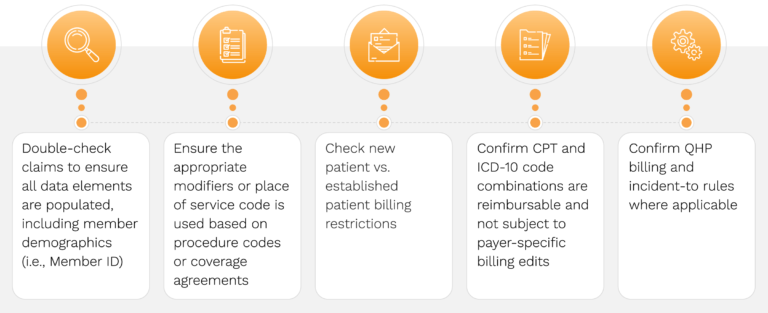 Interested in how others are using the Payment & Coding Library?
Discover best practices for payment and coding with insights from leading V1C providers. Our payment vignettes illustrate the complexities of coding practices and tangible approaches for navigating reimbursement for V1C delivery models.
IMPACT Webinar: Navigating Reimbursement
Hear insights from Dr. Zeke Silva, Lucia Savage, Dr. Ryan Vega, Don Jones, and Abby Sugg and an inspiring discussion on how you can use these new tools to identify applicable coding strategies regardless of your clinical focus easily.'